The Sustainable Christmas Tree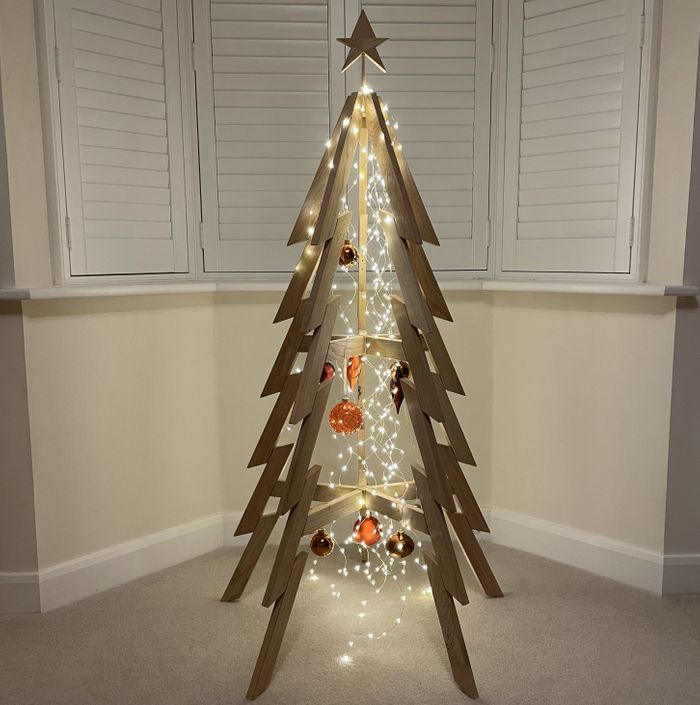 5 years ago we got out the bulky box home to our increasingly bedraggled 12 year old artificial tree. It needed to change. A family debate sparked; what should we get next? A natural tree needs replacing each year & aren't cheap - they agitate allergies and inevitably rope you into excessive hoovering to rid those pesky needles. Another artificial tree didn't sit well with us either, as although lasting several years, these trees are comprised of thousands of environmentally-unfriendly plastic components. And we've watched enough David Attenborough to know better!
After a quick Google, "alternative-style" trees were simply too "alternative". Often taking on a more abstract shape that didn't give us the emotional connection associated with a more traditionally shaped Christmas tree. You can guess what came next. We set out to create our own solution.
The Scalable Christmas Tree grew from a desire to build a tree that lasts a lifetime, is free of harmful materials (mainly plastics), and still looks like a traditional Christmas tree. The wooden structure, outlining a classic Christmas tree shape, uses responsibly sourced hardwood that lasts decades and removes any need for plastics. And the modular design allows the tree to "scale" and grow to changes in family life over the years. For example, you can initially own a small tree and add components each year, allowing your tree to grow as you do. One year it may be a decoration in the hallway, but the next it can grow and become the main tree in your living room and with treatment it can even live outside! The modular nature means it fits into a box 1/8 of the size of a similarly sized artificial tree, perfect for modern living and smaller spaces.