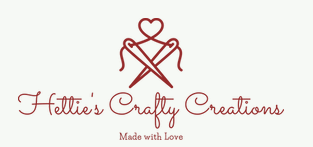 Hetties Crafty Creations
Stand: H367
| Baubles & Tree Decorations
| Decorative Accessories & Photo Frames
| Gifts
| Pictures & Wall Art
| Room Decorations
| Wreaths & Garlands
| Christmas Home
Hettie's Crafty Creations is all about quality, hand made crafts, using felt, fabrics, natural materials and we love to make fun and attractive items to bring warmth and a little bit of joy into your home.
​
My name is Sarah and I am the founder and creative mind behind Hettie's Crafty Creations which was established in 2020 after I became unable to work a normal 9 - 5 job.
Setting up my own business has allowed me to work flexible hours, while doing a job I am passionate about.
I have been cross stitching for over 30 years, only making creations for friends & family. Due to customers requests, I have started making kits and cards.