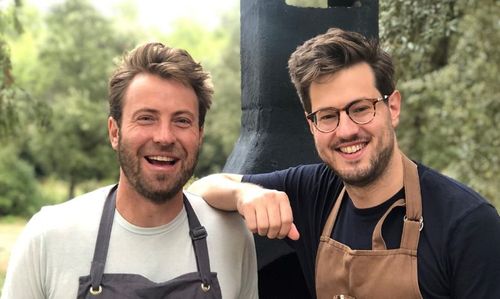 Billy and Jack
Billy and Jack met on BBC 1's Master Chef in 2016, reaching the final three. They didn't win but they became great mates and decided to keep on cooking together.Billy and Jack now host an exclusive monthly Dinner Club at Mimoin Borough Market, develop recipes, appear at food festivals around the country.
Their love of cooking and eating good food is why the boys get up in the morning, why they entered Master Chef and why they teamed up as a duo. Billy and Jack believe food should be always be good; whether that's a sandwich at your desk or a six course tasting menu.
The boys use sustainable, seasonal ingredients that don't damage the environment or cause unnecessary suffering to the animals we eat. They encourage their followers to cook recipes using local and sustainable ingredients, reduce food waste, and work with trusted and responsible suppliers.
Billy and Jack think that the best food goes hand-in-hand with the best experiences. If you love food, you can't have one without the other! At their Dinner Club they serve high-end food in a super relaxed environment, where everyone is welcome and encouraged to kick back and have fun. From food demos to cookery lessons and beyond, the boys love meeting new people and talking food!