Get Hands-on with this years Christmas Workshops!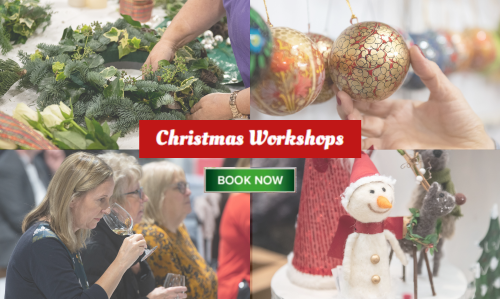 Christmas Workshops are back!
Get hands-on this year and make your trip to the Ideal Home Show Christmas an interactive and fun day out!
Embrace the time leading up to Christmas and experience all the wonderful moments that make the holiday really count with close friends and family! We have a gorgeous array of experts and brands, demonstrating their tricks and tips to make this year's Christmas your most trendy yet, and your time at the Show an even more fun day out!
If your looking to add some decorations to your home to impress your guests or simply adding a festive showstopper to your front door, look no further. Enjoy a Christmas gift, Christmas décor and a wreath making workshop to get you creative juices flowing at the Ideal Home Show Christmas.
If you simply cannot wait to have a Christmas tipple, then enjoy our wine tasting and cocktail making workshop! What could be better?! Get professionally taught about the arts of fine wine tasting and what mixes well to give you a superb cocktail that will have your guests coming back for more.
Workshops spaces are limited and popular, check out the full schedule here and make sure you book your session now. Please note you will need a valid Ideal Home Show Christmas entry ticket into the main Show.